As a recruiter, you are familiar with the placement process for contractors. You might place a contractor at a company for a few months. Or, the client may decide to extend the contract assignment to a longer period of time. Read on to learn about the factors that can impact the length of a contract assignment.
Length of contract assignment
As a brief recap, the purpose of a contract assignment is to fulfill a specific need, project, or deadline at a client's company. Clients may use contract assignments to get to know a contractor's work or skill set before offering them full time (direct) position.
Lengths of contract assignments vary, depending on the industry. For example, in industrial or clerical industries, assignments are no longer than three months. However, in technical and professional areas, contract assignments are typically six to twelve months long.
The duration of a contract assignment depends on a few factors, including the client, type of company, and contractor's work duties. Review the aspects that can determine the length of contract assignments below.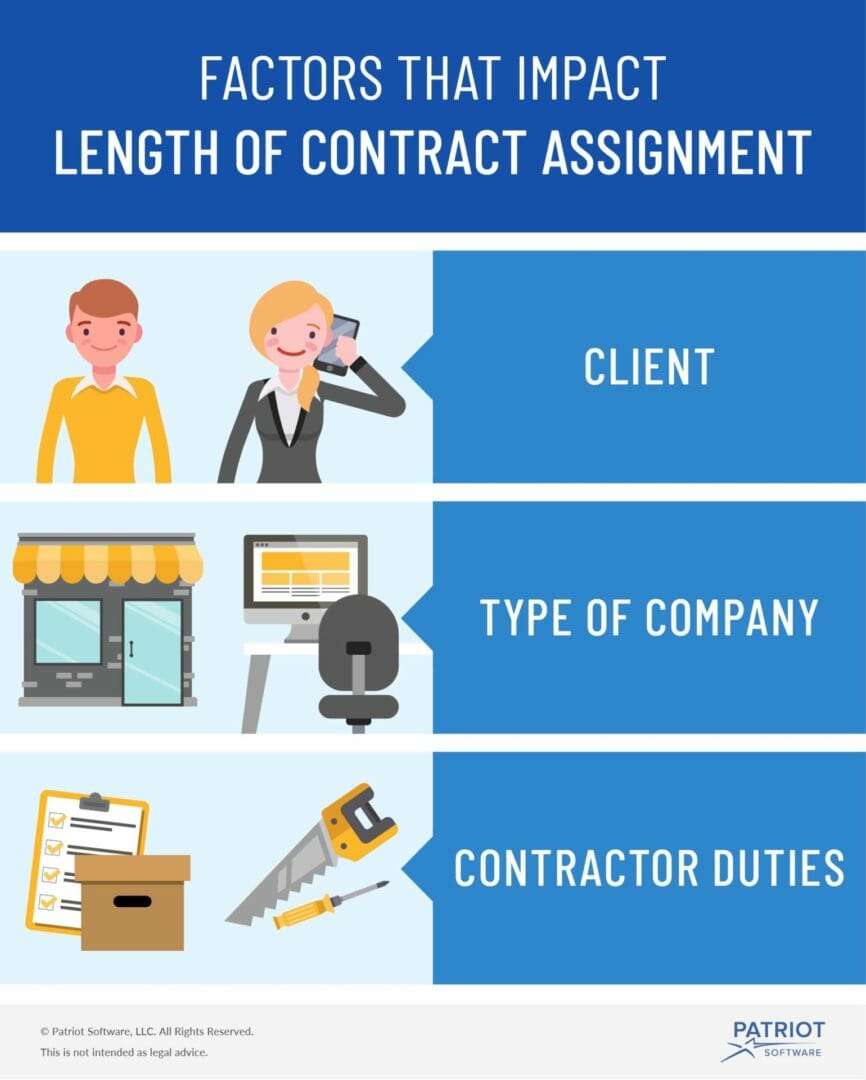 1. Client
The length of a contract assignment depends on your client's needs or scope of the project. One client may need a contractor for six months while another may choose a longer period of time.
Your client might need to extend the contract assignment, which you can do with a contract addendum. A contract addendum details terms, conditions, and sections that are subject to change in a contract.
For example, say your client adds a new component to the project. Because of the additional component, you may use a contract addendum to extend the length of the contract assignment.
2. Type of company
The length of assignment can also depend on your client's business. What types of goods or services do they provide?
The contract assignment length will likely be longer if the work is more time-consuming. For example, some companies may experience busier seasons, especially during the holidays. Due to heavier workloads and additional projects, clients may extend the contract assignment length.
3. Contractor's duties
The contractor's responsibilities can also affect how long the contract assignment lasts. What kind of projects is the contractor responsible for? How long will it take the contractor to finish the tasks?
Consider the type of work the contract assignment entails. Contracting includes technical, professional, and healthcare roles. Positions can range anywhere from engineers and accountants to nurses and pharmacists.
For example, a client may need a travel nurse due to a hospital shortage. You may place a nurse to work at a hospital for a few months. However, if the shortage continues, the placement may extend well beyond that.
After a contract assignment ends
When a contract assignment ends, there are a few outcomes that can occur.
Since contractors are temporary workers, clients can choose to convert contractor to employee. Be sure to address this in the contractual documents to earn a contract-to-direct conversion fee.
As the recruiter, you earn money for every hour a contractor works. And, if you convert the contractor to direct hire, you receive a conversion fee.
If a contract assignment ends without a full time (direct) placement, notify the legal "employer of record" for the contractor. Terminate contractor's benefits for items like health, dental, and vision. Depending on the circumstances, COBRA may be an option for impacted contractors.
Recruiters play a critical role in the contract staffing process. Matching the contract job order to the candidate is key. To simplify the process, many recruiters outsource back-office duties to another employer of record service, like FoxHire.