When you place contract workers with your clients, you need to address both the front-office and back-office tasks. What's the difference between front office vs. back office in recruiting and contract staffing?
Front office vs. back office
Part of what makes contract staffing a little intimidating to recruiters is the jargon that goes along with it. But, understanding the difference between front office and back office is very simple once you under the basic concept from a recruiter's point of view.
What is front office?
Front office refers to people (recruiters) who work with clients and directly generate revenue for their business. Recruiting is mainly a front-office task because you work directly with your clients to go through the full cycle recruiting process. Your actions directly lead to your ability to generate revenue for yourself or your recruiting firm.
Function of front office
Your front-office duties are the things you do each day for recruiting. These duties are most clearly tied to revenue generation, meaning these are the things you need to do in order to generate income. Therefore recruiters should spend the majority, if not all, of their time on these things.  Here's a short list of some of your front-office recruiting responsibilities:
Market your services
Meet with clients
Build relationships with clients
Source, screen, interview, and place candidates
Leverage software systems to track progress (like an ATS)
Because recruiting is a front-office position where you deal directly with clients, most recruiters possess a variety of skills, including sales, people, and communication.  Plus recruiters embrace marketing for recruitment skills.
What is back office?
Back office refers to the behind-the-scenes tasks that support front-office efforts but do not deal directly with clients, nor generate revenue. Workers in back-office positions carry out administrative duties, including accounting, human resources, legal and information technology.
As a recruiter, you have mostly front-office duties. But if you offer contract staffing services, you will also have back-office responsibilities if you handle those tasks "in-house" instead of outsourcing them. As the employer of record (EOR) for your contract workers, you (or your back office provider) must handle administrative duties. However, you could also outsource those to an EOR provider.
Back-office functions
When you offer contract staffing services to your clients, you become the legal W-2 employer of the contract workers. You have many financial, administrative, and legal responsibilities to fulfill, including:
Drafting legal agreements for clients
Generating employment contracts for candidates
Onboarding employees and record-keeping
Timesheet collection and processing
Payroll funding and processing
State and federal taxes compliance
Obtaining workers' compensation
Conducting background checks
Invoicing and client collections
Benefit administration
Although these responsibilities do not directly generate revenue, they are necessary for you to offer contract staffing services to clients. However they can become a hefty time burden for recruiters that do not have a built out team.
Need help handling front office and back office responsibilities?
Just reading all of your front-office and back-office tasks and understanding the responsibilities can be overwhelming. But, you have another option.
Many recruiters outsource the back-office tasks. With a back-office service-provider, you can eliminate the administrative, legal and financial tasks.  That will allow you to focus on the front-office tasks and grow your business and generate revenue.
A contract staffing back-office, aka an Employer of Record (EOR) provider, should take care of all the back-office responsibilities referenced above.  Also, when considering a back-office, be sure they can handle the various types of job disciplines that you commonly place.  For example, FoxHire can handle positions in the clerical, technology, healthcare, education, and engineering arenas.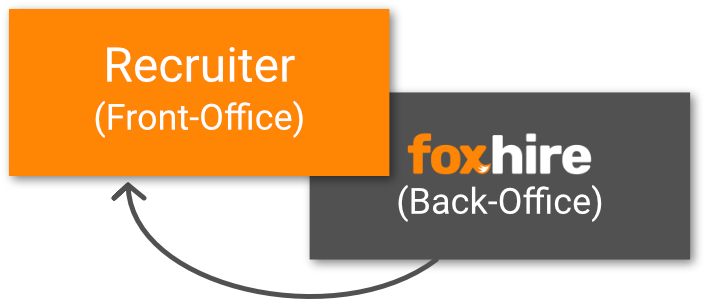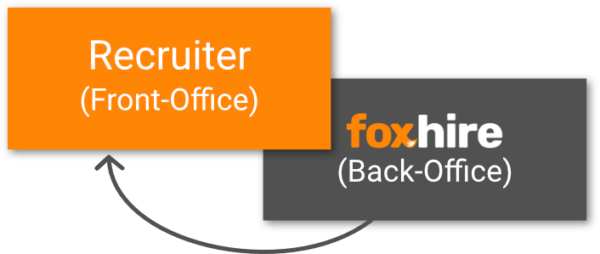 By outsourcing your back-office responsibilities, you can enjoy the steady income, increased placements, and client loyalty that come with offering contract staffing. And, you don't need to worry about the administrative burden and employer liability associated with employing contract workers.